About Us

The Chelsea Community Fair is hosted at the Chelsea
Fairgrounds
, which is located just south of downtown Chelsea. The annual fair is organized and run by the 27 member, totally volunteer,
Chelsea Fair Board
and takes place in
mid to late-August.
Thinking of hosting a large event? The
Chelsea Fairgrounds venue is available to rent
for your next event.
2017 Chelsea Community Fair

Board & Directors


OFFICERS:
President: Rick Boham
Vice President: Buddy Wahl
Manager: Jeff Layher
Assistant Manager: Mike Grambau
Secretary: Susan Heumann
Assistant Secretary: Laurie Williams
Treasurer: Jeanne Trinkle
Assistant Treasurer: Jamie Lane

DIRECTORS:
Rick Beeman
Jim Zenz
Eric McCalla
Tony Trotter

Matt Gaken
Donald Bollinger, Jr
Chad Trinkle
Richard Bollinger

Dennis Trinkle
Brian Trinkle
Jason Fletcher
Josh Powers

Harold Burchett
Dan Grau
Scott Graflund
Danny Trinkle

Mike VanRiper
Gary Wonders

Brian Carden

Daily Activities Chairs


Merchant's Building
Jamie Lane

Green Exhibit Barn
Chad Trinkle & Harold Burchett

Horse Barn
Josh Powers

Livestock Barn
Eric McCalla, Mike VanRiper, Chad Trinkle & Dan Grau

Livestock Clubs, Rules, and Sale
Eric McCalla, Mike VanRiper, Chad Trinkle, Dan Grau & Danny Trinkle

Daily Activities
Rick Beeman, Rick Boham, Richard Bollinger, Brian Carden, Mike Grambau, Jeff Layher, Dennis Trinkle, Tony Trotter, Gary Wonders, Buddy Wahl, Jason Fletcher & Jim Zenz

Admissions and Gates
Rick Boham, Susan Heumann, Jamie Lane, Jeanne Trinkle & Laurie Williams

Farm Machinery Exhibits
Buddy Wahl, Dennis Trinkle, Tony Trotter & Matt Gaken

Grounds
Rick Boham, Don Bollinger, Jr., Scott Graflund & Brian Carden

Grounds Set-Up
Rick Boham, Jeff Layher, Brian Carden & Dennis Trinkle

Utilities
Harold Burchett

Office Operations/Website
Susan Heumann, Jamie Lane, Jeanne Trinkle & Diane Winter

Fair Promotion and Publicity
Jeff Layher, Laurie Williams, Jeanne Trinkle & Jamie Lane

Grounds Improvement
Rick Boham, Mike Grambau & Jeff Layher

Grounds Maintenance
Rick Beeman, Don Bollinger, Jr., Brian Carden, Scott Graflund, Dennis Trinkle, Jason Fletcher & Jim Zenz

Security
Rick Beeman & Rick Boham

Building Maintenance
Mike Grambau & Harold Burchett

Equipment Maintenance
Richard Bollinger, Jeff Layher, Dennis Trinkle, Tony Trotter, Buddy Wahl, Gary Wonders & Jim Zenz



2017 Chelsea Community Fair Board & Directors

Chelsea Community Fair Board & Emeritus Members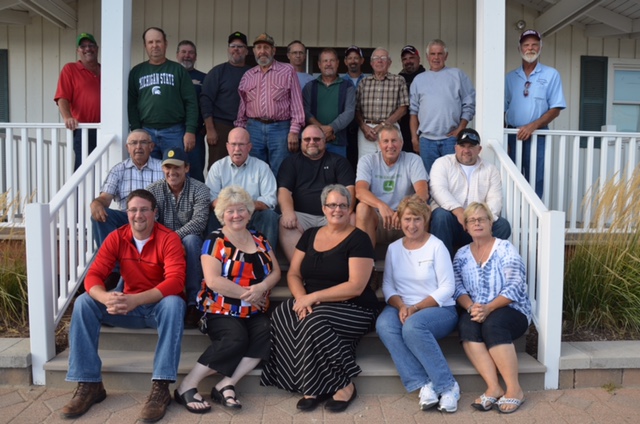 Back: Jim Zenz, Loren Heller, Brian Carden, Buddy Wahl, Reuben Lesser, Ken Schiller, Gary Wonders, Harold Burchett, Lloyd Grau, Brian Trinkle, Dennis Trinkle, Richard Bollinger
Middle: Earl Heller, Rick Beeman, Tom Edman, Rick Boham, Jeff Layher, Donny Bollinger, Jr.
Front: Tony Trotter, Susan Heumann, Diane Winter, Jeanne Trinkle, Jamie Lane